"He's just a silly little alien; he didn't belong here!"
"That "little alien" knew more about being human than you ever will. His name was Sonic, this was his home, and he was my friend."
Sonic the Hedgehog is a 2020 film adaptation of the videogame series of the same name. It is the first film set within the Sonic the Hedgehog Cinematic Universe, and the first adaptation of the title character in film.
The film was directed by Jeff Fowler, and stars Ben Schwartz as Sonic the Hedgehog, Jim Carrey as Doctor Ivo Robotnik, James Marsden as Tom Wachowski/Donut Lord, and Tika Sumpter as Maddie Wachowski.
Synopsis
Based on the global blockbuster videogame franchise from Sega, SONIC THE HEDGEHOG tells the story of the world's speediest hedgehog as he embraces his new home on Earth. In this live-action adventure comedy, Sonic and his new best friend Tom (James Marsden) team up to defend the planet from the evil genius Dr. Robotnik (Jim Carrey) and his plans for world domination.[1]
Plot
Sonic the Hedgehog recalls his early life on his home planet in a monologue; the Echidna Tribe's hunt across the island for his powers, the chase which seemingly ended the life of his parental figure Longclaw, and her final warning as he ran through the ring she had opened to Earth.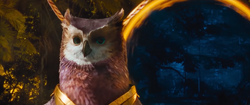 Tom Wachowski, the sheriff of Green Hills, Montana, sits in his police car in what he calls the "speed trap", an area directly beside the welcome sign, waiting to give speeding tickets to anyone driving above the speed limit. In the boredom of his current situation, he talks to his friend and fellow officer, Wade Whipple, who is in his office at the police department. He comes across a turtle, which he attempts to scan with his radar gun. After Tom jokes with the turtle, Sonic quickly runs past his radar. Wachowski, who did not have the reaction time necessary to comprehend his speed, is surprised that his radar displays such a high number. After investigating the situation, he finds Sonic's quill glowing with electric energy in the grass. He is surprised, having never seen anything like it beforehand. He is called in by Wade for a local trouble, driving past a car that almost runs over the turtle that had been left in the road. Sonic runs past the vehicle's front, saving the turtle in the process. He talks to the turtle, describing his relative slowness. He proceeds to run with the turtle down the road, eventually dropping the shaken animal in the local woods.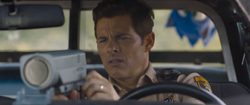 In a following monologue, Sonic, in his hideout, recounts his plan if he were ever to be discovered; to travel to the Mushroom Planet through a ring from his map of the universe. He also recalls his time in Green Hills, Montana, where he has now lived most of his life; he toyed with the townsfolk and developed a one-sided relationship with many of them, as they all remained unaware that he existed. He describes Tom Wachowski as his favorite of them all, referring to him as the "Donut Lord". He also mentions the activities of his wife, who he calls "Pretzel Lady" due to her flexibility. He recounts that only one person in the town knows he exists; a man named Crazy Carl, who constantly attempted to capture Sonic, calling him the "blue devil". Sonic realizes that what he considered to be his friends in the town had no way of socially interacting with him as he kept himself isolated, sending him into a depression.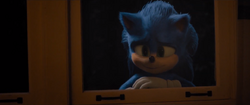 Tom, during the night, at his home, receives a letter from the San Francisco Police Department, confirming the application he had sent to prove himself as an officer, something which he struggled with in a country town void of crime. Maddie gives him a cake in celebration, one of two she had purchased in the case that he was rejected. She jokingly claims she never had a doubt, to which Tom embraces her. He practices his speech in front of Sergeant Sprinkles, a donut which he had given his sunglasses. At the same time, Sonic witnesses a group of children playing baseball, striking his interest. Later that night, he returns to the field, using his speed to play the sport on his own. He once again realizes his loneliness, sending him into a fit of sadness and rage. He runs the entire field diamond constantly at increasing speeds, eventually creating an energy surge explosion that knocks out power across the entire Pacific Northwest region.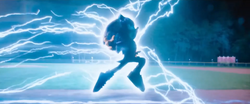 This prompts a response from the United States Armed Forces, who send Doctor Ivo Robotnik to the scene. Through the recovered footage from his Flying Eggs, Robotnik discovers Sonic's existence from a footprint, recognizing his anatomy as being alien to Earth's animal kingdom. Sonic, having been discovered, runs to a shed at Tom's house, attempting to travel to the Mushroom Planet. He is interrupted by Tom, who shoots him with a tranquilizer in shock. Sonic sees the San Fancisco iconography on his shirt, summoning a ring to the city, where all of his other rings are then dropped atop the Transamerica Building. Sonic awakes in a cage, revealing his existence to Tom, begging him for help. Following a confrontation with Robotnik, where a Flying Egg nearly kills Tom, the two leave him unconscious in the kitchen, where he is later found by Agent Stone. Now in possession of Sonic's quill, Robotnik schemes to catch the creature.
Following an argument, Tom and Sonic begin a road trip to San Francisco. Along the way, Sonic and Tom stop at the Piston Pit a biker gang-inhabited bar, in order to make a phone call to Wade. Through the phone call, Robotnik and the United States Armed Forces discover the two, beginning a tracking process. Tom returns to find Sonic playing around within the bar. Sonic, realizing that he has made his first true friend, starts a bucket list, which he completes over time throughout the rest of their trip. After Sonic accidentally engages in a bar fight, the two leave, arriving at a hotel. Tom learns through a news segment that he is wanted on charges of domestic terrorism. Agent Stone and Robotnik's Crew interview various people from the Piston Pit, one of whom refuses to speak. Robotnik throws him through a window after mocking him.
Robotnik completes his tracking procedure, creating a simulation of Sonic and Tom's location in real-time. Sonic and Tom briefly discuss his plans to work for the San Francisco Police Department, which angers Sonic, who views it as a betrayal of his town. Robotnik catches up with the two in his own vehicle, a Badnik meant to chase hostiles. A harpoon is shot from it into the dash of their truck. The two battle constantly, changing positions from driver to passenger to combat the machine. It continually reveals smaller internal forms that allow it to keep hunting them. They eventually destroy its smallest form, allowing them to escape. a Sticky Bomb is stuck to Sonic's hand, however, detonating in an explosion that knocks him unconscious.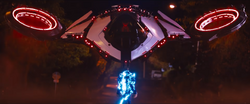 Tom arrives in San Francisco with the top of his truck sawed off by a laser drone badnik. He goes to Rachel's Home, where Maddie helps bring Sonic back to consciousness, despite Rachel being tied up in her living room. Jojo, Rachel's daughter, met Sonic, giving him a new pair of PUMA sneakers to replace his old pair. Tom and Maddie infiltrate the Transamerica building, hiding Sonic in a bag. They eventually make it to the top, collecting the lost rings. Sonic is about to open a ring to the Mushroom Planet, saying his final goodbyes, when Robotnik's Flying Eggs ambush the group. Robotnik appears in the Egg-Pod, a hovercraft powered by Sonic's quill. Surrounded by the Flying Eggs, Sonic pushes Tom and Maddie off of the building to Robotnik's shock. Sonic attempts to grab a ring while chasing them down the building, with Robotnik activating the hyper-speed mode, allowing him to move as fast as Sonic. Sonic succeeds, warping the Wachowskis back to Green Hills. Robotnik chases Sonic across the city, with Sonic eventually using rings to travel to different parts of the world. They eventually face off in the middle of Green Hills. Sonic channels his energy, berating him with with attacks in ball form. Tom, now finally embracing the "Donut Lord" title, throws a ring behind the Egg-Pod. Sonic then crashes into the front of the pod, destroying it and sending it backwards through the ring with Robotnik inside.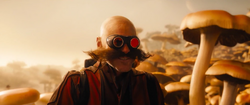 Tom and Maddie embrace Sonic, who they now welcome into their home. While the couple are completing home repairs, Commander Sam Walters, the man who originally sent Doctor Robotnik to investigate the Green Hills Energy Surge, debriefed them, giving them a $50 Olive Garden gift card as a token of appreciation from the government. He attempts to catch a glimpse of Sonic as Tom shuts the door. The three go upstairs, with Tom and Maddie revealing to Sonic a recreation of his old hideout in their attic.
Doctor Robotnik, having been stranded on the Mushroom Planet for 87 days, begins to plot his way home. Tails arrives from Sonic's Planet after tracking him to Earth.
Cast
Appearances
Locations
Events
Green Hills Energy Surge

Invasion of Wachowski Residence

Road Trip to San Francisco

Brawl at Piston Pit

Highway Ambush to San Francisco

Chase of San Francisco

Coup in Pakistan (mentioned)
Uprising in Azerbaijanistan (mentioned)
Items
Creatures
Organizations
Green Hills Baseball Team

Spring Valley Baseball Team

United States Department of Defense
Mentioned
Videos
Trailers
TV Spots
Deleted Scenes
Trivia
Sonic the Hedgehog received a large amount of criticism from major outlets when the first trailer was released on April 30, 2019. The design of the title character was criticized, as well as its use of Coolio's "Gangsta's Paradise" for background music. It was later deleted alongside an announcement that the title character would be redesigned in the final release.[2] The movie was delayed a final time to February 14, 2020, with director Jeff Fowler stating, "Taking a little more time to make Sonic just right."[3] A second trailer showing an improved Sonic design by Tyson Hesse was released on November 12, 2019, just eight months after the first.[4]

The original character designer of Sonic the Hedgehog, Yuji Naka, said he was "shocked" by the design of the character in the first trailer, citing an imbalance between his head and abdomen.[5]
The second trailer had the highest like-to-dislike ratio of any YouTube video in the prior three years.
External Links
References